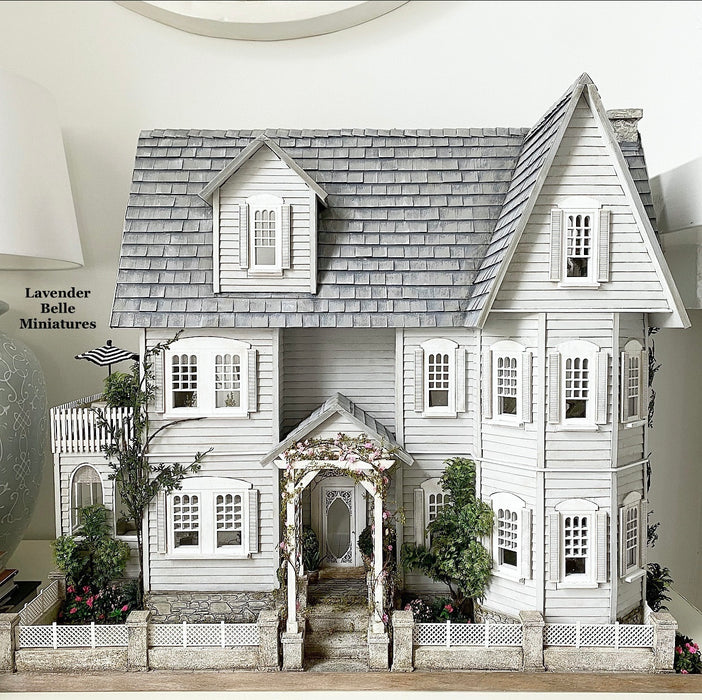 Bramblewood House - 1:24 scale
'Bramblewood House' is a beautiful three storey mansion with aged grey weatherboards on the outside and cottage style on the inside.
When I started this house I envisioned a romantic english cottage, I wanted it to be light and bright but still modern vintage.  White floors were a must for the main areas and this time instead of all white walls I mostly used a beautiful pale grey called 'Silver Tea Set'.  The bedroom has a washed stone paint which also ties in with the bathroom brick feature wall.
Entrance is through a gorgeous wooden arch covered in pink country roses and up the steps onto the porch with pot plants and an inviting front door.  There is a lattice fenced courtyard with stone tiles and garden beds.  A large stone chimney and more garden beds are on one side and on the other side there is balcony outside the master suite.  This is the perfect spot for a cup of tea with a small round table, covered in a linen cloth with umbrella and two french chairs.
Once inside the front door there is an entry way with hallstand to hang your coat and a sideboard with mirror.  This leads into the kitchen and dining area complete with a large island bench and of course a french La Cornue stove, over head cupboards and a bay window banquette dining area with cross back chairs.  The staircase to the second floor is here too. 
On this first floor there is also the spacious living area with a beautiful swedish fireplace and sofa, leather armchairs, large coffee table and a set of vintage drawers. Along with a wood basket, trestle and numerous decor items.
The second floor is the master suite with a large bedroom and sitting area.  Pink cottage roses and linen bedding is the theme here with a tufted french head board and full length mirror.  Silk curtains can be pulled for privacy and there's also a dressing table and armchair.  The middle room is the dressing room with ornate wardrobe and decorated study desk. Then there's the bathroom, also with silk curtains, freestanding bathtub and stone topped vanity.
The top floor is a full length rooftop dining and sitting area with hanging basket lights.  There is a stone fireplace with oversized clock, vintage french linen sofas and large coffee table.  Nearby is a stone fountain and topiaries.  The whole floor is lined with potted plants. Then there's the beautiful wicker chairs around the ornate dining table and finally the jewel in the crown of this floor is the large stone pizza oven.  Many more plants, hydrangeas, cherry blossom and decor items are also on this floor.
See more photos and the build progress from the beginning on my Instagram page @lavenderbelle_miniatures and hashtag #BramblewoodHouse.
All decor items and furniture are included. The lights are non working, for show only. Windows throughout are finished with roman shades or curtains.
This is a high end dollhouse renovated and decorated with love and ready to go to it's forever home. Most items in my houses are exclusive and can not be found anywhere else.
Measurements:
60cm H x 64cm W x 31cm D
(23.5" H x 25" W x 12" D)
(This is for collectors only not for children)
_______________________________________________________________________________________
Please note shipping costs to send internationally from Australia is quite expensive. The quoted price will include professional packaging, full insurance with tracking and will be sent by DHL.
Also be aware there may be customs duties payable on the full insured amount, please check with your country's customs office. Customs duties are the responsibility of the buyer.