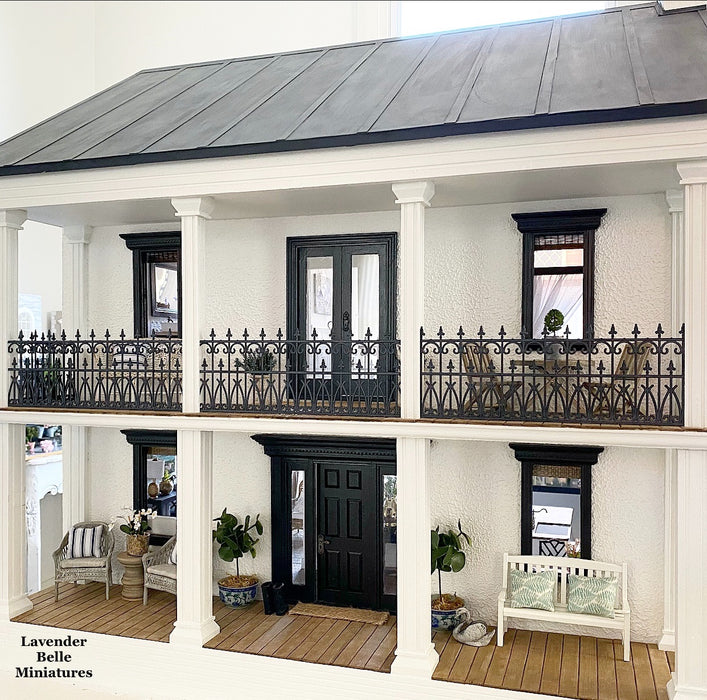 Rosabrook Lodge Dollhouse - 1:12 scale
I found this old dollhouse in a poor weather damaged condition desperately needing a revamp. I started the interiors in August 2017 and over the next couple of years I used the rooms in my styled photos when I was selling miniatures. It was a great prop for photos and now in late 2020 I have finally finished the interiors and exterior!
I completely stripped the walls of the tattered wallpaper, lifted old flooring, removed stairs and walls to open up the living space. With a fresh coat of paint and new flooring I then started on the bottom floor kitchen and dining area working my way up to the top floor before finally three years later finishing the exterior.   I wanted a colonial style vibe for this house with blue and white accents and lots of palms and greenery with the warmth of wood. 
Entrance is from the front veranda where there is a sitting area with wicker chairs, standard plants beside the door and bench seat. Through the front door into the kitchen and living area with an entrance table on one side of a nib wall which separates the dining room. I added this half wall as a feature but also to make an entryway. There is an upholstered linen bench seat on the other side which is perfect for the zinc top dining table with crossback chairs. 
The kitchen is large and welcoming with white cabinets  and wood bench tops, a huge island with farmhouse sink, bar stools and pendants lights. There is a Lacornue stove and overhead cabinets and hood. Also a study nook under the window. The benches are filled with kitchen decor for a homely lived in look. 
On the other side of the dining table is the cosy living room with white cushioned sofa, wicker chairs and decorated sideboard. My original paintings are throughout this house as well as mirrors and clocks on the walls.
On the second floor is the master suite parent's retreat. I made a four poster bed with white sheer curtain surrounds finished with linen bedding and cushions.  The bedroom also has a beautiful colonial style wallpapered feature wall, sitting area and wardrobe. Nearby is a study and a large bathroom with freestanding bathtub, double vanity, folding screen, toilet etc. There is access to the upper balcony through french doors where there is an outdoor table and chairs, plants and a wicker bench seat. 
Then it's up to the rooftop garden complete with a huge stone outdoor fireplace and sitting area. I built a pergola here and covered it with vines. There's a dining table underneath with crossback chairs and chandelier.  On the other end of this floor is a chequered lawn with beautiful hedged fountain, a large arched mirror and the gardens are filled with ferns, palms and various other plants. 

I wanted this house to look clean and fresh with a white exterior and contrasting dark windows, doors and roof. I love the final look with beautiful wrought iron railing and oak flooring on the verandas.

See more interior photos and the build progress from the beginning on my Instagram page and hashtag #RosabrookLodge
All decor items and furniture are included. 
This is a high end dollhouse you will not find anywhere else, made with love and ready to go to it's forever home....
Inclusions:

Kitchen includes includes a LaCornue stove; large island with farmhouse sink and tap, two industrial style bar stools, pendant lights and kitchen benches filled with accessories and decorating items.
Dining room has a zinc top rustic oak table with cross back chairs and upholstered bench seat, wire decor tray with plants, pendants lights.
Living room includes white sofa with cushions and side table, two wicker armchairs and side table, brass and glass coffee table with hydrangeas, arched mirror and clock, pedestal and bust, topiaries, decorated sideboard with lamp, books, baskets, candles etc. There is a hall table in the entryway decorated with candles and jugs.
Bedroom includes a king sized four poster bed with curtains, pillows and bedding; bedside tables and lamp; armchairs and plants; hat stand, wardrobe and mirror. 
Study includes a desk with lamp and books and decor, pedestal and palm, birdcage with bird, wall art.
Bathroom includes freestanding bathtub with floor spout, folding screen, blue and white ceramic stool, double vanity cabinet with large mirror, chair, palms and orchid. 
Rooftop includes outdoor setting with bench seat and two chairs with cushions, coffee table with hydrangeas, large outdoor fireplace,  round oak dining table with crossback chairs,  fountain and chandelier, custom made pergola with vines, gardens and pot plants.
Plenty more decorating items throughout such as floor rugs, pots and pans, chopping boards, flowers, fruit, small plants and a fiddle leaf figs. Four of my original paintings are included along with other wall art.
There's too many things to mention in the whole house so take a look at the photos to see!
Measurements:

79cm W x 81cm H x 58cm D
(31" W x 32" H x 20.5" D)
(This is for collectors only not for children)
_______________________________________________________________________________________
Please note shipping costs to send internationally from Australia is quite expensive.  The price added at checkout includes packaging, full insurance with tracking and will be sent by DHL. Australian buyers will be refunded any shipping overages.
Also be aware there may be customs duties payable on the full insured amount, please check with your country's customs office.  Customs duties are the responsibility of the buyer.