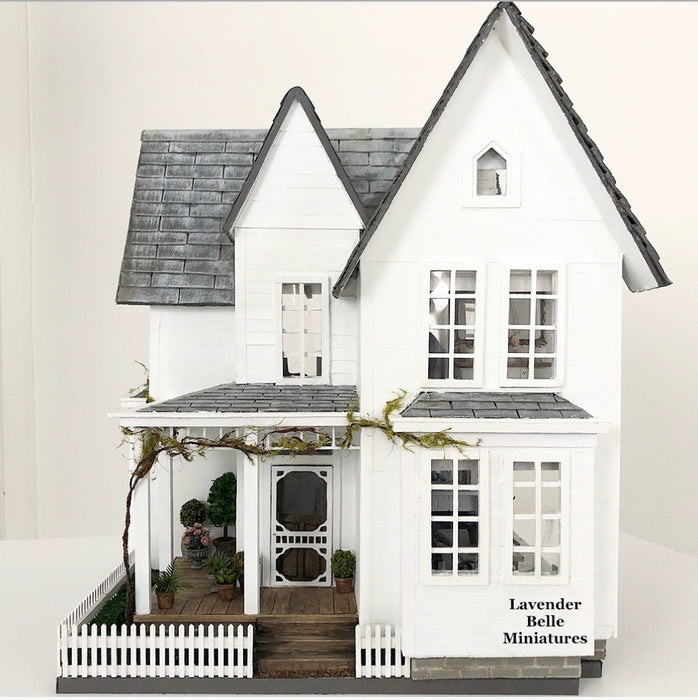 White Haven Farmhouse - 1:24 scale
This beautiful dollhouse has been so enjoyable to renovate, my first in 1:24 scale!
It is a Greenleaf Fairfield house which had awful colours and decor, I have completely renovated it and changed the look by removing the tower and replacing with a gable to make it the white farmhouse I had in mind. I've included a 'before' pic and I'm so happy with how it looks now!

At the front is the cutest little porch area with entry through a single screened door into the mud room. This leads to upstairs and into the dining room and designer kitchen. I made my favourite stove, a Lacanche with matching hood and added an antique marble topped island. There's a farmhouse sink, pot filler and shelves are filled with accessories. Then it's through to the living room with comfy chairs, french sofa and beautiful old doors.

Upstairs on the second floor is the master bedroom complete with fireplace and upholstered oak and linen bed. Next door is the bathroom and dressing room. There is a stand-alone antique zinc tub with shower and curtain surround, perfect place to bathe in front of the fireplace. On the other side of the bath dividing wall is a double vanity and a wardrobe at the back.
Also on this floor is an office with an antique industrial style desk with hutch filled with accessories and a chesterfield chair.

On the top attic floor there is a grand piano and stool, stand alone fireplace, sitting room with french chairs and a play area with antique linen daybed.

The exterior is clad in wood siding with shingles on the roof. It sits on a brick base with a small private garden and picket fence around the porch. A wispy winter vine winds it's way around the fretwork which I've added for extra charm.

See more interior photos and the build progress from the beginning on my Instagram page and hashtag #WhiteHavenFarmhouse.

All decor items and furniture are included. The lights are non working, for show only.

This is a high end dollhouse renovated and decorated with love and ready to go to it's forever home. Most items in my houses are exclusive and can not be found anywhere else.

Inclusions:
Kitchen includes a Lacanche stove and hood, antique island, pot filler and shelves full of accessories;
Dining room has a zinc top oak dining table with crossback chairs; window seat with cushions, swedish mora clock, hutch filled with books and baskets;
Mudroom cabinet with baskets, umbrella, bag, cushions and wreath;
Living room armchairs, coffee table and french sofa, topiaries, lamps on pedestals, double doors, farmhouse shelf and wall art;
Bedroom has an upholstered bed with velvet cover and floral throw, chair, artwork and clock, fireplace and a wagon full of firewood; Bathroom with zinc tub, powder blue silk curtain, mannequin, chair, double vanity, flowers and wardrobe.
Top floor has a grand piano and stool, orchid, chair, fireplace, two french armchairs and coffee table. The play area has a day bed, dollhouse, sailboat, basket, cross back chair, market basket and play block.
On the veranda there's topiaries, an antique bench and pot plants;
Plenty more decorating items throughout such as plates, pots and pans, chopping boards, flowers, fruit; small plants and a tiny fiddle leaf fig. Three of my original paintings are included along with other wall art.
There's too many things to mention in the whole house so take a look at the photos to see!

Measurements:

38cm L x 36cm W x 43cm H
(15" L x 14" W x 17" H)
(This is for collectors only not for children)

_______________________________________________________________________________________
Please note shipping costs to send internationally from Australia is quite expensive. The price added at checkout includes packaging, full insurance with tracking and will be sent by DHL.
Also be aware there may be customs duties payable on the full insured amount, please check with your country's customs office. Customs duties are the responsibility of the buyer.