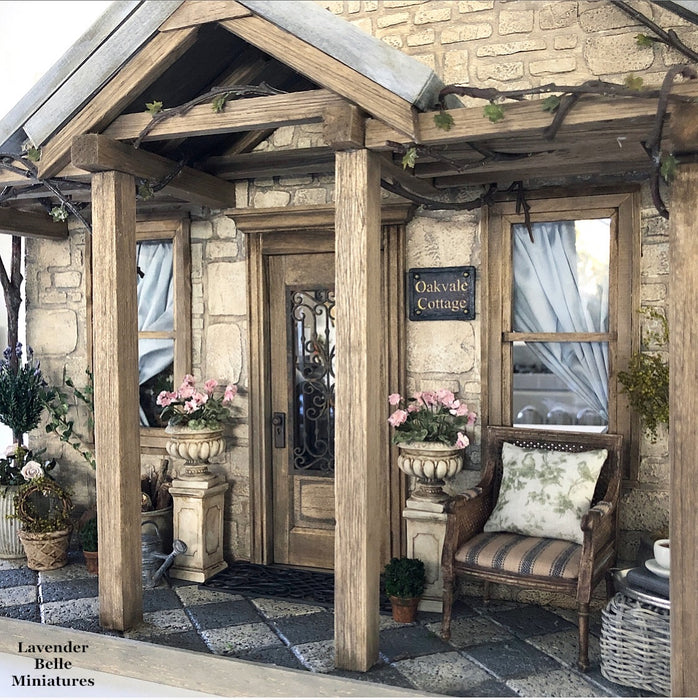 Oakvale Cottage Roombox - 1:12 scale
This little stone cottage is full of rustic french character inside and out.  I have built it from scratch in my signature style, from the outside it's a beautiful cottage but inside it's a warm inviting bedroom with four poster bed, bathtub and fireplace. 
The front portico and pergola are entwined with grape vines coming into leaf for spring. On the porch is a wicker chair waiting to be sat on with pretty pink geraniums, a standard lavender with roses and other plants and a firewood bucket. Entrance is through an old wrought iron and wood door.
Inside has aged plastered walls with a four poster bed dressed in a ruffled linen cover and pillows. In the corner is a dollhouse on display with more decor and a tufted leather chair. Horsehead lamps are beside the bed and a french side table is filled with more decor items. 
Over in the corner is an old zinc bathtub with freestanding brass tap. Opposite the bed beside the bath is a beautiful fireplace and mantel with mirror and clock.  Then there's a gorgeous old vanity cabinet with ornate mirror and decor. 
To complete this room is a crystal chandelier which is wired and operated by a battery inside the chimney.
Perfect as a photography prop for your miniatures or to add to your dollhouse collection. 
All decor items and furniture are included in the sale. 
This is a high end roombox you will not find anywhere else, made with love and ready to go to it's forever home.... includes a four poster bed; french ornate side table and lamps; corner desk with chair, dollhouse and decor items; french settee upholstered in blue raw silk; blue hydrangeas in a pot on pedestal; wall tapestry and other wall art in frames; powder blue pure silk curtains; bathroom vanity with opening drawers, roses, soap and ornate mirror; ornate fireplace with tools and clock; books, towels.... too many things to mention so take a look at the photos to see!
You can also see more interior photos and the build progress from the beginning on my Instagram page and hashtag #OakvaleCottage.
Measurements:
50cm L x 44cm W x 40cm H
(19.6" L x 17.3" W x 15.7" H)
(This is for collectors only not children) 


______________________________________________________
Shipping costs to send internationally from Australia is quite expensive.  The price added at checkout includes packaging, full insurance with tracking and will be sent by DHL.   Australian buyers will be refunded shipping overages or please contact for a quote.
Also be aware there may be customs duties payable on the full insured amount, please check with your country's customs office.  Customs duties are the responsibility of the buyer.